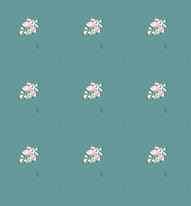 CROCHETED SHELL POTHOLDER
circa 1945 **NB
8 inch potholder with contrasting trim and ring
From the library of J. Barrett
and posted to CP with permission 5/96
---
To conform with current pattern format, the materials list has been updated and the pattern edited.
Note: This pattern calls for a single strand of Cotton worsted weight yarn. It will make a potholder roughly as thick as those inexpensive fabric ones you can now buy in grocery stores. If you want a thicker one, use a double strand of yarn, an aluminun I hook (5.5 mm). For an 8 inch potholder,
begin with a ch 20 . *Remember that you'll need twice as much yarn.

MATERIALS:
Cotton Yarn, Worsted Weight, about 2 oz. (MC) Use Southmaid #8, Lily Sugar-n-Cream, Bernat handicrafter or equivalent.
Cotton Yarn, Worsted Weight, small amount (CC)
Plastic Ring
Aluminun Crochet Hook Size G (4.5mm)
Yarn Needle

PATTERN NOTES:
Shell: Make 5 dc in designated stitch or space.

DIRECTIONS:
Row 1: With MC, Ch 24 (to measure about 8 inches), 2 dc in 4th ch from hook. *Skip 2 chains, sc in next ch, sk 2 ch, 5 dc in next ch (shell). Repeat from * across, ending with sc in last ch. Ch 3, turn.

Row 2: 2 dc in 1st sc, * sc in center dc of next shell, 5 dc in next sc. Repeat from * across, ending with sc in top st of turning ch. Ch 3, turn.

Repeat row 2 until piece is square. Fasten off.

Attach CC yarn to ring, Ch 1. Sc around ring until it is covered with yarn. Fasten off. Sew to potholder at corner.

For a Border: With CC yarn either whip stitch around potholder, or make a round of evenly spaced single crochets.

Edited by S. Guess 5/96
---
**NB: This note accompanied the pattern: "This one is from a book that cost ten cents in 1945! The poor thing is falling apart and very fragile."

As much as possible, Crochet Partners has made a good faith effort to determine whether patterns bearing copyright dates of 1973 or earlier have been renewed before posting. If displayed on the original document, the name of the original copyright holder and the date of publication is included in the posting.
Crochet Partners is a non-commercial web site,
sponsored and maintained by volunteers.
Return to CP Home Page
CPpat14

Back to CP's Pattern Index ||| CP'S Site Map (Text Only)"||| CP's Home Page

MANY VOLUNTEERS HAVE CONTRIBUTED TO THE CONTENT & QUALITY OF THE CROCHET PARTNERS'S WEB SITE.
IT IS SUPPORTED THROUGH WEB SPONSORS AND OUR WEB MASTER.
THANK YOU SPONSORS!

Site Design & Content Editor: Shefog Designs, web master.
Crochet Partners Web Site, S. Guess (c) 1995-98