EMILY'S BABY BLANKET
I made a baby afghan in March 97 for youngest niece, Emily. Afghans aren't my favorite items to make, nor do I really enjoy working with yarn. Thus, I wanted something that would work up quickly, but still offer some of the things I like about working with thread.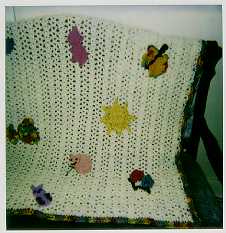 How I made it:
For the "Crocheted Fabric" I used two strands of sportweight weight yarn held together and an "K" hook. I used a very simple stitches. (explained below)
Once I'd made the fabric I began making a bunch of crocheted appliques to sew on. I used a varigated yarn for theedging.
To make the appliques, I used scraps of sport weight yarn, worsted, or double strands of cotton #10 trhread. I worked some of them up from memory--like the roses and fiddled with other designs. But I also used ASN's 101 Thread Crochet Embellishments.
Designer Delsie Rhoades went wild when she put together this book! I highly recommended it. I've spent hours looking through it, thinking of ways I could use the patterns