Mary's Dressy Scrunchie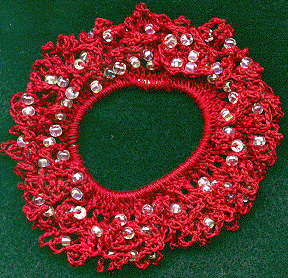 Though you can't really tell from this picture, the beads seem to pick up other colors, like crystals, when moved.
Adapting the Loop-de-Loop Scrunchie Pattern from the Crochet Partners Library, I made this scrunchie for my niece, Mary. She's a very feminine young lady who, coincidentally, shares the same name with the scrunchie's designer.
The original pattern calls for 4 ply cotton & size H hook. I used red Cebelia #10 cotton thread, a size #4 steel hook, and a bunch of glass beads (size #E).
My adaptation:
Whenever the pattern called for a sc, I substituted a dc.

To make a beaded loop: Ch 6. Work a dc in next st until 2 loops remain, push up a bead close to hook, thread over hook and pull through rem loops to hold the bead in place & finish the dc.
To get Mary's original Loop-de-Loop scrunchie use the following address: http://www.crocheting.com/~shefog/crochet/Patterns/CPpat151.html