Shefog's Workroom---Rae's Purse
Made with #10 thread, this purse is decorated with 6mm faux pearls, #11 gold seed beads, and 6 mm genuine amethst beads.
The faux pearls were crocheted directly into the purse in a ripple design. The gold and amethst beads were sewn on to the finished purse. (see below purse for more description of how this purse was made)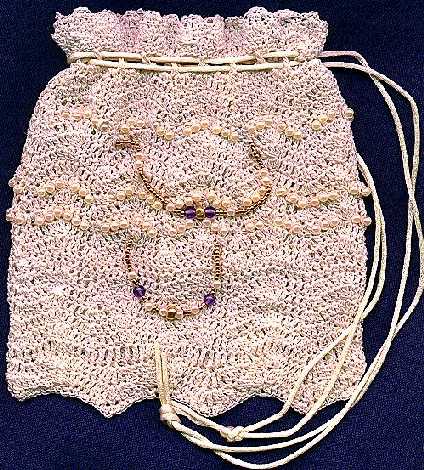 I made this purse from the top down, starting with a set of shells and then a row of open stitches for the cord. After that I worked several rows of a plain ripple stitch before I began crocheting ripple stitches with beads. I used a double crochet throughout most of the purse. I ran a couple of rows of scs at the bottom to close the purse.

For a close up of the beaded stitch click here.
To Next Page
|||||Return to Project List|||
12/10/97