PHOTO ALBUM & FEATURED ARTICLES
AT CROCHET PARTNERS
Featured at the Crochet Partners Web Site March 1997
---
CROCHET PARTNER MARSHA PARKHILL MAKES ADORABLE HATS AND SCARVES FOR CHARITY BEARS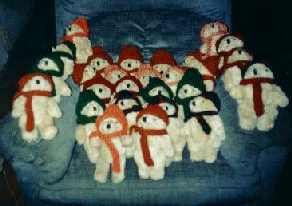 photo (c) Marsha Parkhill
Decked out in their stylish hats & scarves, Marsha donated these bears to L.A.'s Children's Institute
Marsha's been a member of CP's discussion group for about a year. Not too long ago, I received an e mail message from her telling me about a project she'd completed.
"I was recently inspired," Marsha said, "to make hats and scarves for 30 teddy bears to donate to a children's charity party."
Marsha asked me if I'd be interested including picture of them for CP's photo album. She also assured me that she wouldn't be insulted if I rejected her offer. Reject it? No way!
I just love these stylish little bears in their winter hats and matching scarves. Don't you?
I'm certain that the youngesters from the Children's Institute of Los Angeles loved getting them.
ssg (c) 3/97
---
Want to write Marsha? Click on her highlighted name (above) or on this bear.

---

NOTE: The photo and featured article above are copyrighted. To obtain permission for reprinting the article, please contact the author. To obtain permission for reprinting the photo please contact the designer.

The email addresses were accurate at the time they were posted. If they are no longer accurate, please use one of the fine search engines to get an updated address.

Back to the Annex|||LIST OF FEATURES||| CP HOME|||

Crochet Partners Web Site (and Annex) (c) Shirley Guess