PHOTO ALBUM & FEATURED ARTICLES
AT CROCHET PARTNERS
Feb 1997(c)

---

A CROCHETED RUNNER WITH BEADS
Inspired by a circa 1920 Pattern
For Jeff's Theatre Organ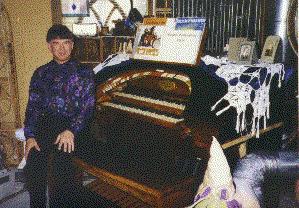 My pal Jeff sits at the keyboard of a theatre organ that he rebuilt in his garage.
Across the top of the instrument is a crocheted runner that I made for him. I adapted it from an old pattern I have that was published during the same era. Originally intended for an antimacassar, it was made up of several star motifs joined at the tips. For Jeff's Runner, I added a border to each motif, designed a small joining motif, an outer border, and a fringe. I also added strings of crystal beads, which you can't really see in this photo. Shirley Guess
---
About the Theatre Organ:
The magnificent theatre organs (like the one pictured) were capable of producing a wide variety of different sounds ---from the clip-clop of horses to a full choir of very human sounding singers. During the heydey of silent films, they accompanied full-length feature films. We have a historical theatre in my home town that houses one of these organs. Whenever they feature silent films, we're lucky enough to have Jeff perform.
My husband and I have spent many happy hours munching our popcorn, watching silent films movies, and listening to Jeff perform on the theatre organ.
But, Jeff owns a theatre organ, too. He bought it from a local church and then rebuilt it in his garage. It just about fills the entire garage, leaving his wife Betsy with only a tiny corner to store some scraps of fabric. (She designs clothes and costumes.... but that's another story)
My pal Jeff knew rebuilding the theatre organ would be a big job. Actually, this was second time around that he rebuilt that same theatre organ. (He bought it years ago, sold it, and then bought it again.) A stickler for authenticity, he frequently had to build parts from scratch because the original ones were either damaged or dismantled by the previous owner(s).
Even with friends popping in to help him from time to time, it was a time-consuming project for Jeff. But Jeff likes to grumble a bit <G> And, I suspect for all his grumbling about the work, he's glad he did the work. Those of us who have heard him play certainly think so.
Deep cellos and powerful bases resonant from floor-to-ceiling wooden pipes. Flutes and throaty clarinets vibrate from across the room. A snare drum goes tit-tat, tit-tat and a jaunty bagpipe joins in with a sassy tune.
It's a blast to listen to him perform.
---Shirley Guess 2/97(c)
---

NOTE: The photo and featured article above are copyrighted. Please don't reprint either of them in any form without author's permission.

Back to the Annex|||LIST OF FEATURES||| CP HOME|||

Crochet Partners Web Site (and Annex) (c) Shirley Guess