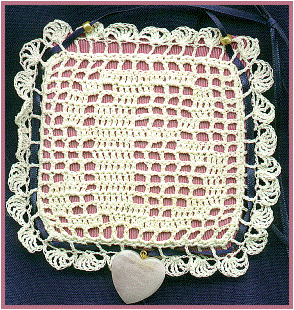 Materials: Cotton #10 thread & #30 thread (I don't know how much I used of either thread It hardly made a dent on the spool, so it wasn't much.)
Size #6 and #10 hook (U.S. size) 1.75mm &.75mm Continental
Mauve Satin, two pieces about 4 1/2 inch square.OR Size to match the finished filet block (w/o ruffled) plus 1/2 inch for seams.
Navy ribbon, 1/4 inch wide, about 3 yards
A bit of fiberfill stuffing
A thin cork coaster (optional)
A rose quartz heart and two small gold pony beads
Mauve sewing thread and clear nylon sewing thread
sewing needle
Directions
First Part: Make the filet block with size #10 thread and #6 hook. Use whatever filet pattern you have and follow their spacing instructions.Don't fasten off. Instead....

Rnd 1: make a sc border all around it as follows: 2 sc in each block, 1 sc in each stitch and side of stitch & 5 sc in each corner. Fasten off.

Rnd 2: Attach size #30 thread in any corner stitch. Using #10 hook, make 6 chs. (Counts as tc + ch 2). *Sk 2 sts, make tr in next st. Repeat from * around. (Eyeball this. You might need to make more loops at the corners). Sl st to top of ch 4.

Rnd 3: Make a shell border all around. I made a shell every other tr, from rnd 2, and a sc in between shells. I made my shells by making a (tr + ch 1) 6 times. Fasten off.
Sew block to around Rnd 1 to right side of one mauve block. Leave the ruffles loops. Put two mauve squares with right sides together. Slide the cork coaster in as a gauge (optional). Sew the squares together, leaving one side open and being careful not to catch the ruffle.
Turn right side out. Slide cork coaster back in (optional) Add a little fiberfill and some paper or pearl sachet. Sew the remaining open end close. Thread ribbon and attach decoration as shown in picture. I found it helpful to take the heart and the corners in place.
By Shirley Guess (c) 1997
For personal use only. Please don't reprint without permission. mail shirley