Shefog's Workroom (continued)
---

Theatre Organ Runner With Beads
Awhile back I featured my own work at the site. After working at the site for over a year, I realized I'd never shared any of my own stuff!
I made a theatre organ runner for a friend of mine who rebuilt a 'c 1920 theatre organ in his garage. I added beads and pearls. I've since added even more panels and beads. My pal and I suspect that the runner will just keep growing throughout the years.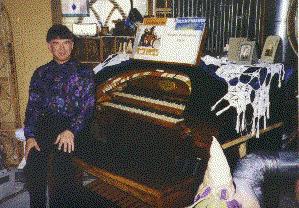 Back to Project List
If you want to read a more in-depth story about the Theatre Organ, see CP's The Annex. Back issues of features and bookreviews are posted there. Go There
---

Hexagon Potholder with Bobbles and Spike Stitches My Own Design:
I was in the mood to make something intricate---but not something that would take months to make. I wasn't in the mood to make a doily, so I opted for a special potholder where I could try out several stitches.
Here's a close up of Bobbles.

For a bigger view of the potholder, click here.
To Next Page
To Project List
---